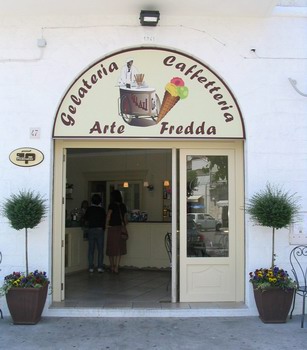 In 1994, Mrs Maria Caterina Di Pietro started up her ice -cream parlour "Arte Fredda", placed in the old center of the town.
Inheriting on ancient family tradition, when she was only 12, Mrs Di Pietro began her apprenticeship in Verona under her father Paolo, who is an international famed master.
After working for twelve years with her family, she started being in business on one' s own: Maria caterina offered her experience to set going new ice cream shops.
She distinguished herself ly her creative talent attending decoration and specialization courses. On the eleven of June 1994 she started up her ice cream parluor in alberobello.
Here she professionally makes her handicraft ice cream using natural ingredients, fresh seasonal and tropical fruits.
Thanks to her artistic quality and imagination Mrs Di Pietro makes decorated fruit filled with ice cream, hand painted cakes, ice cream and soft ice cream cakes, italian traditional "spumoni", "moretti" and water-ice flavored with wines, sparkling wines and beer.
In summertime we offer outdoor service, sitting round little tables, customers can taste oru: sundaes, fruit sakadas, fruit and coffee "granite" (grated ice).
Mrs Di Pietro was awarded for her fresh almondice cream during the 26th editione of "International Ice-cream Competition: 1000 ideas for a new flavour" in Rimini.